reaching the world for Jesus,
​one soul at a time!
The Bible says: "The earth is the Lord's and the fulness thereof; the world, and they that dwell therein" (Psalm 24:1), and we know that He owns "the cattle upon a thousand hills" (Psalm 50:10).

Seize this opportunity now to be part of this special anointing for prosperity. Sow your seed gift, releasing it as an act of faith, knowing that the size of your gift determines the size of your harvest. We look forward to receiving your donation, so that we can agree with you for a special anointing for prosperity.

Keep looking up! Your greatest days are ahead. Your future is healthier than your past, brighter than your past, more prosperous than your past! God wants to help you survive the chaotic waters around you and will pour out a supernatural anointing for prospertity!

For we know it is "not by might, nor by by power, but by my Spirit, saith the Lord of hosts" (Zechariah 4:6)

Preaching the glorious Gospel of Jesus Christ, teaching the unchanging Word of God, and expecting the mighty and miraculous power of the Holy Spirit.


Send Your Love Offering To:
Rock Of Ages Ministries
201 S. College Rd., Suite 212
Lafayette, LA 70503

Please fill out the information below, so that we can add you and your family to our "Prayer List" . Please add your "Comments" and immediate "Prayer Request" inside our "Comment Box" below. We will also like to send you a note of thanks for your donation, and a free gift from out Ministry.
We're excited God directed you our way, and we believe there is a divine purpose for our connection.

The promises of God can transform your health. Through obedience, they turn financial situations around, heal broken relationships, and enable you to walk in victory and guarantee your success.

Today we want to ask you to make an investment in God's Word, to sow a seed, in faith, that will not only produce a harvest in your life but also in the lives of other people.

As you invest what God has entrusted to you, you'll be blessed by the One who has your future in His hands. God blesses our giving, with financial increase and even more importantly with prosperity that money cannot buy.

Remember the seed you sow today is the harvest you will reap tomorrow. In fact, YOU are a harvest. Our ministry in some way touched your life because someone else first sowed a seed. Thank you in advance. Your gift is a step of faith, and God always honors faith.

As you sow your seed, remember that God gives seed to the sower. Release the seed from your hand, and He will give you more seed to sow and multiply the seed sown. Sow today and activate the law of the supernatural harvest that is coming your way!
PLEASE SEND IN YOUR MOST GENEROUS DONATIONS, AND LOVE GIFTS TO HELP US SPREAD THE LIFE SAVING GOSPEL OF JESUS CHRIST ACROSS THE GLOBE TO SOULS AROUND THE WORLD!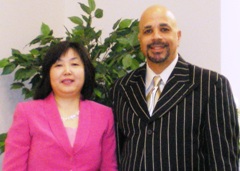 Apostle Ronnie & Takko Bailey, Overseers